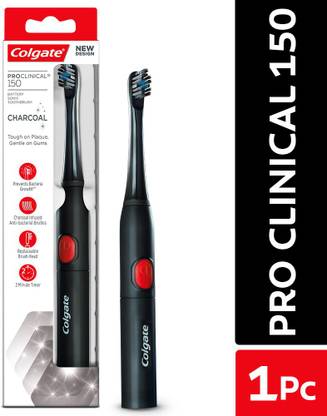 Check product details here :

Power-tip bristles that use SONIC vibrations (20,000 strokes/minute) to clean in between the teeth and other hard-to-reach places
Charcoal infused anti-bacterial bristles prevent bacteria growth
Comes with a replaceable brush head and a 2-minute timer setting
Slim, light-weight handle designed for easy control, two AAA batteries included
Offers superior plaque removal vs. an ordinary manual toothbrush
Soft, thin-tipped bristles help clean along the gum-line. Rechargeable : No
Brush head with cheek and tongue cleaner helps remove odour-causing bacteria

Safety Information:
For adults and children 8 years and older. Adult supervision required for persons with disabilities. Replace refill if brush head becomes loose due to damage. Battery choke hazard. Do not install batteries backwards, charge, put in fire, or mix with other battery types. May explode or leak causing injury. Replace all batteries at the same time.

Directions:
To clean after use: Rinse toothbrush head thoroughly, shake excess water, and store upright To replace battery: Firmly hold the bottom of the handle while rotating the top anti-clockwise. Insert 2 new AAA batteries as indicated inside the brush handle and firmly rotate clockwise back into position to close To replace brush head: Gently pull the brush head from the handle and press new Colgate ProClinical brush head firmly into place Dentists and Hygienists recommend replacing your toothbrush every 3 months

Colgate PROCLINICAL is an innovative battery toothbrush that combines unique, multi-directional brush strokes (over 2000 strokes per minute) with soft, thin-tipped bristles for a superior cleaning experience. Colgate PROCLINICAL 150 Charcoal Battery Sonic Toothbrush offers better plaque removal compared to a manual toothbrush and is gentle on the gums. Its charcoal infused anti-bacterial bristles help prevent bacterial growth on the bristle surface. This toothbrush has a replaceable head that can be easily changed every 3 months as recommended by dentists and hygienists. The electrical toothbrush also has a built-in 2 minute timer that turns it off after reaching the maximum recommended brushing time. Also, to offer you a seamless experience, the brush has been designed to be slim, lightweight, and quiet. Try Colgate PROCLINICAL 150 Charcoal Battery Sonic Toothbrush and give yourself another reason to smile.